CNCs, Presses and 3D Printers
A collection of machines and large tools that I have either designed or built or both.
Sometimes the tool you need doesn't exist or is inaccessible. The following are a collection of machines that I have built. Some are kits, but the majority I did the design and engineering work on.

First is a multi-mold press for skateboards. This was designed by myself in SolidWorks based on client needs, then turned into 2D shop drawings and sent off to a metal fabricator.
Shown here with no hydraulics (installed where wood legs are), this is intended for 100+ tons of pressing force.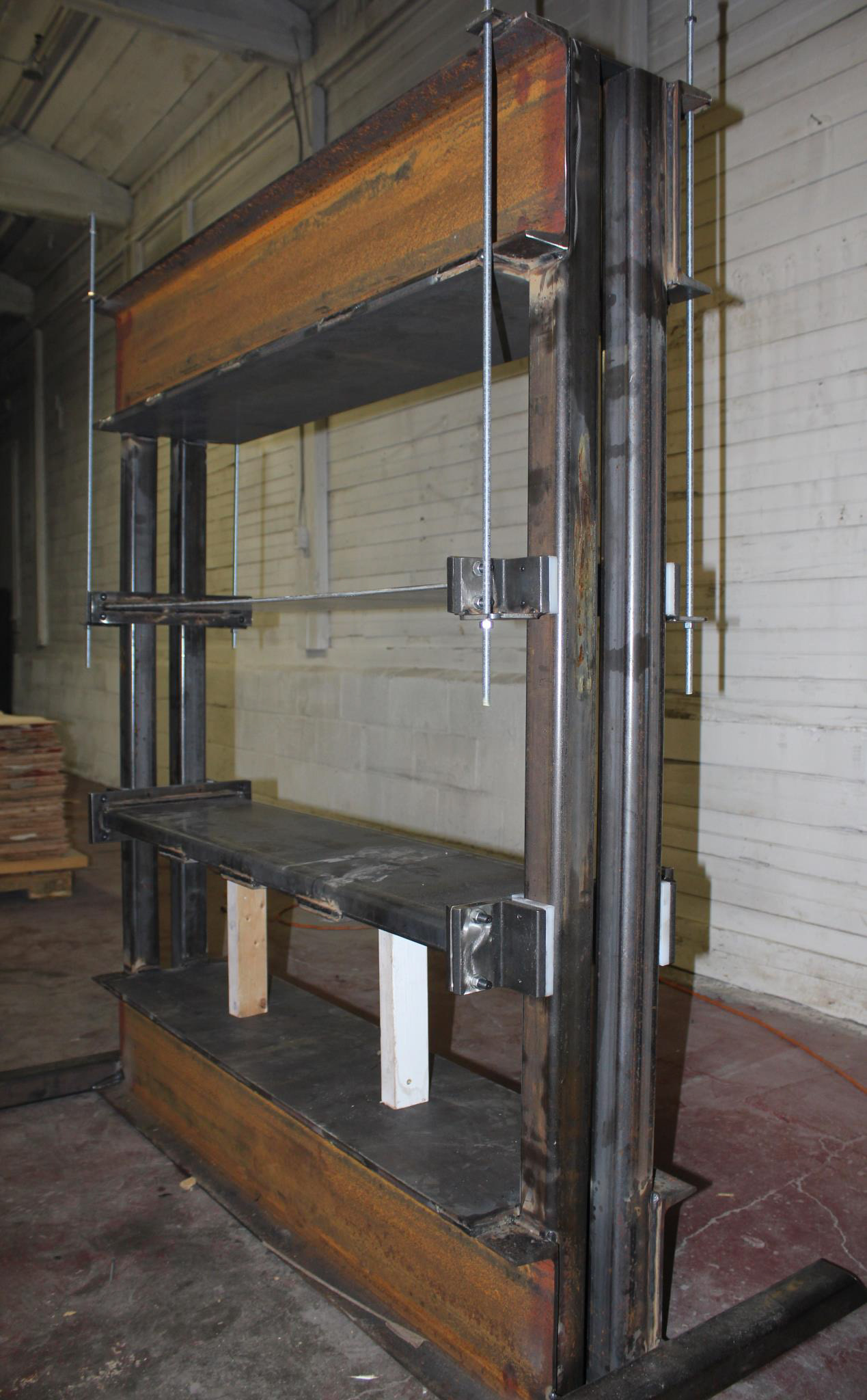 Second in line is a custom 27" x 74" (2' x 6') 3-Axis CNC router. Designed around a 4.5kW/6HP water-cooled spindle, the entire machine is made out of CNC'd aircraft-grade aluminum. Spec'd with lead screws for Y & Z, and a gear-driven X axis, it was designed and developed in conjunction with XYZGantry, this being one of their first machines. I had to redesign parts when it came to build time. The build as well as all electronics wiring and programming were completed by myself, with further settings tweaks done by and with the CNC's owner.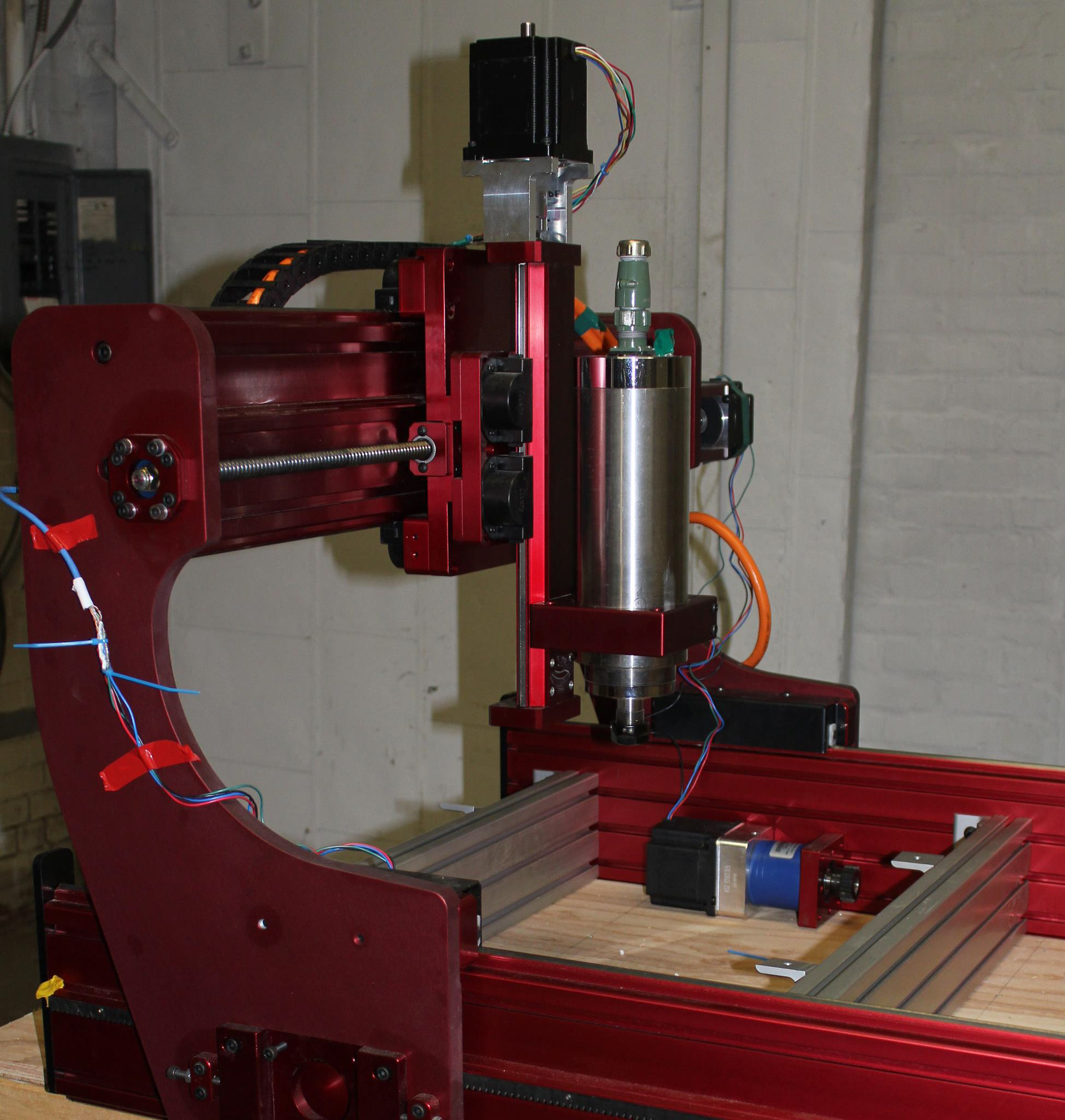 Above: The unit is shown with a 4.5kW spindle, client has moved the machine to an air-cooled spindle.
Below: Myself, soldering together wiring looms for the motion controls. An old PC was gutted to be used as an electronics housing which provides some form of dust intrusion protection.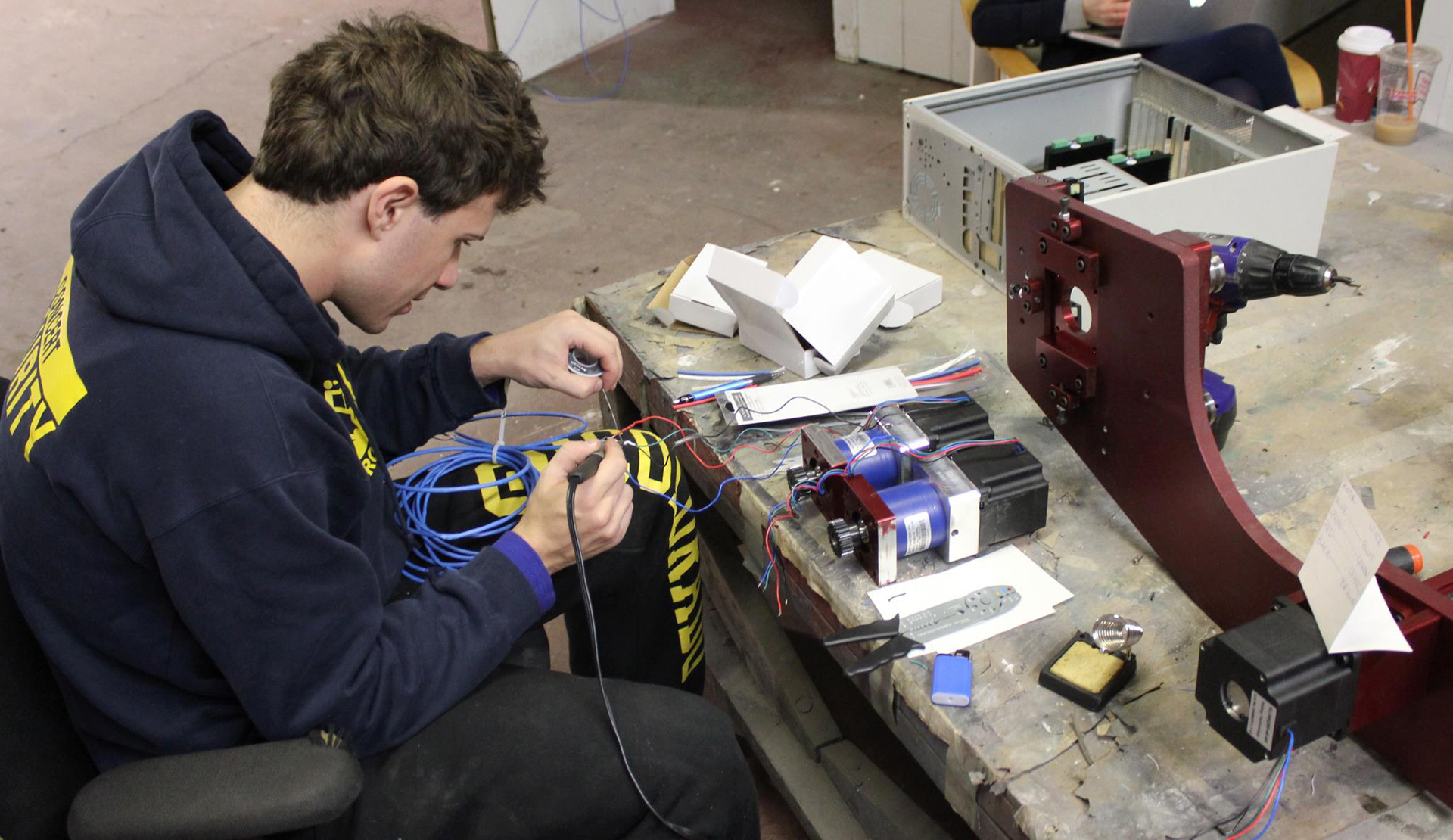 Below: "John Henry" as it is referred to, shot from behind during construction.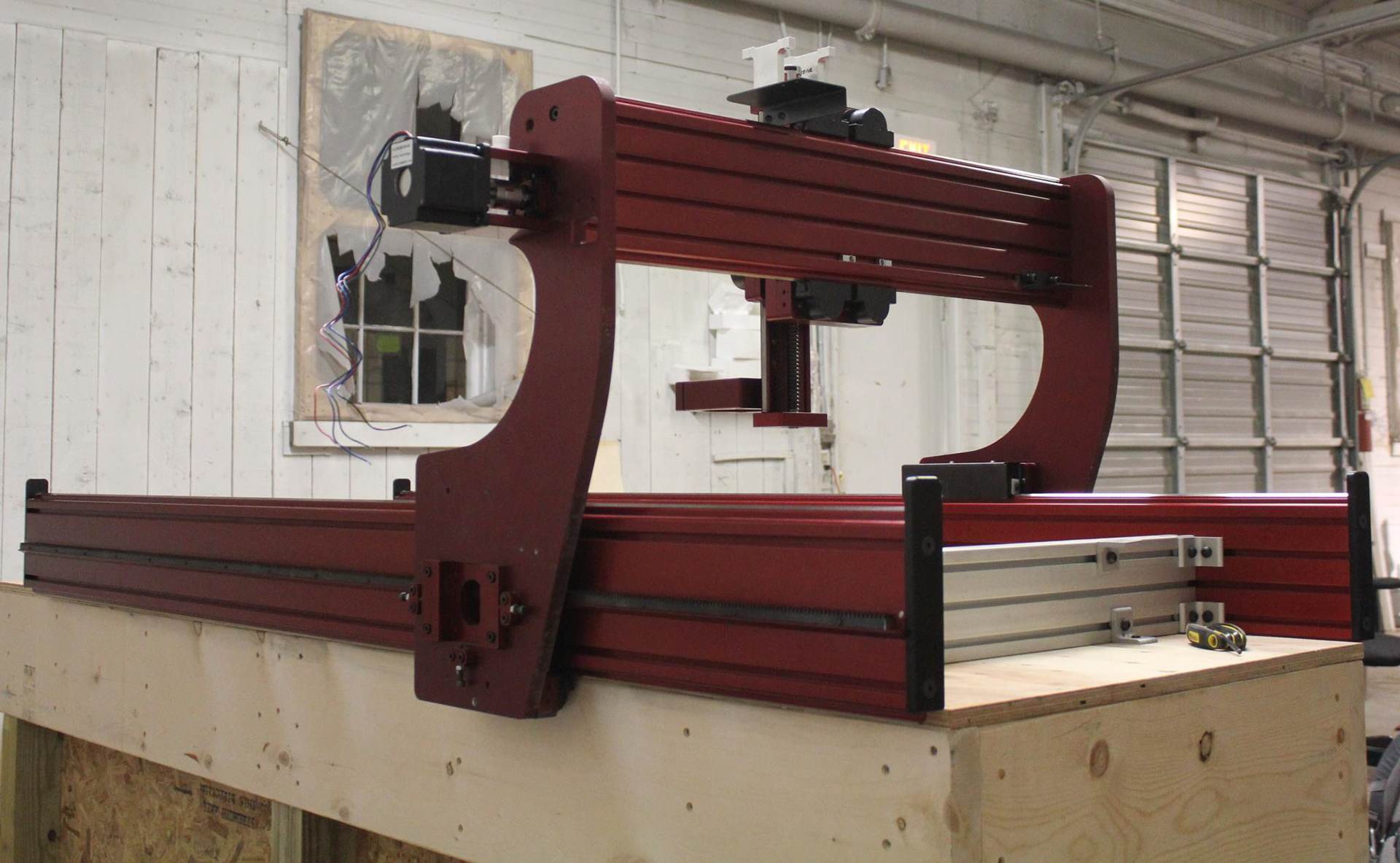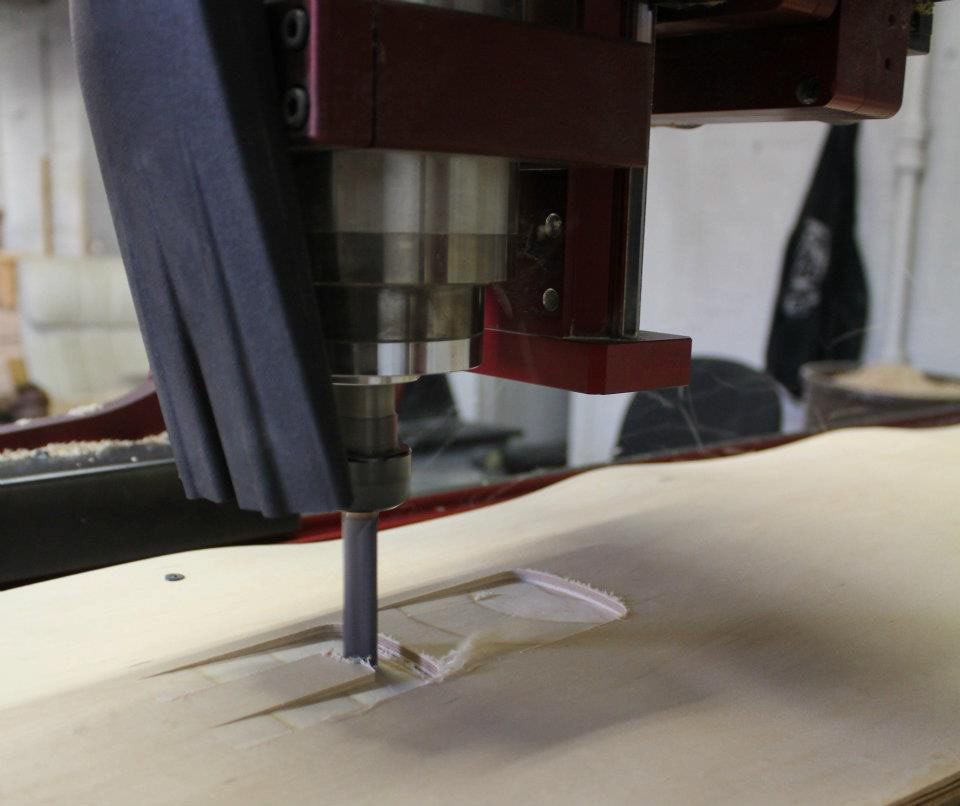 Above: JH at work, cutting flush mounts into a deck blank.
Below: Company owner Rus sets a blank onto JH's cutting table. John Henry can cut through 9 plies of North American Hard Maple in one pass, leaving hand-finishing to employees and shaving hours off of production time.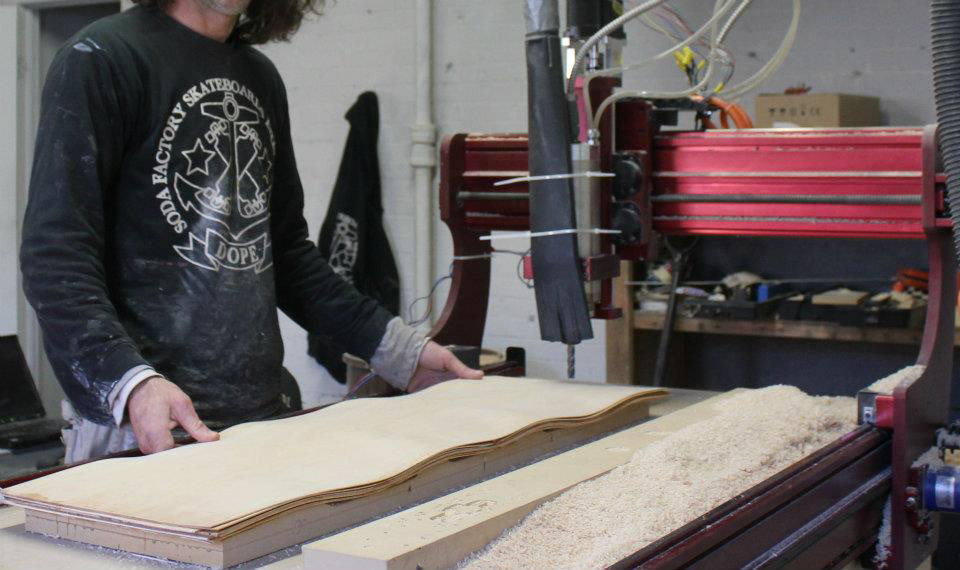 Lastly is my build of the E3D BigBox. A 3D printer designed by E3D in England, the kit arrives as a flat-pack box which eventually transforms into a machine with a 12"x8"x12" build area and decently wide-ranging material handling abilities.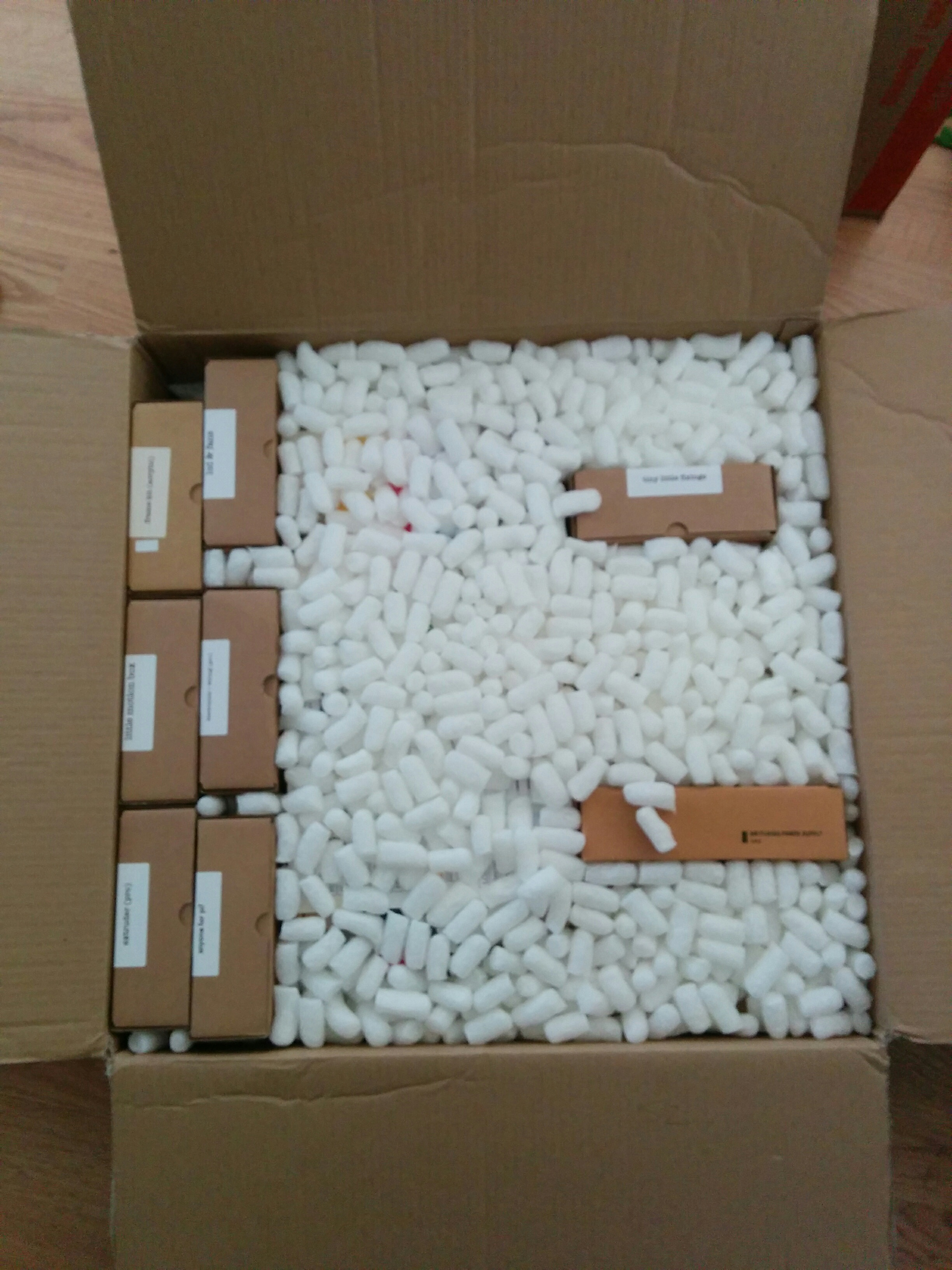 Above: This looks nothing like a 3D printer.
Below: Quality control worries - On the right is a part as-shipped from E3D. As my kit was short a piece, I had to print a replacement shown on left. This made me wish I could stop and re-print each part, but avoided this as I'm likely to redesign everything as well.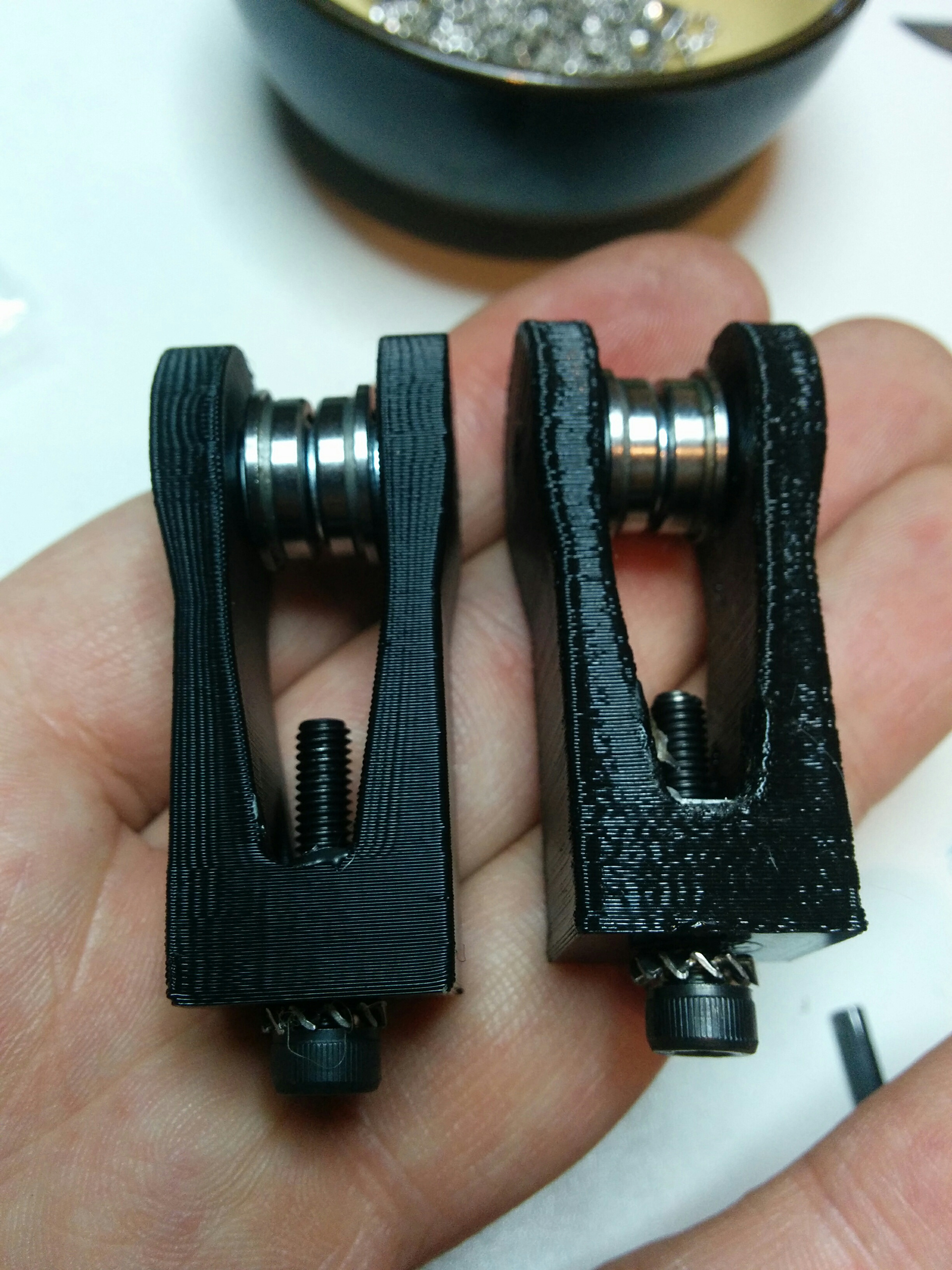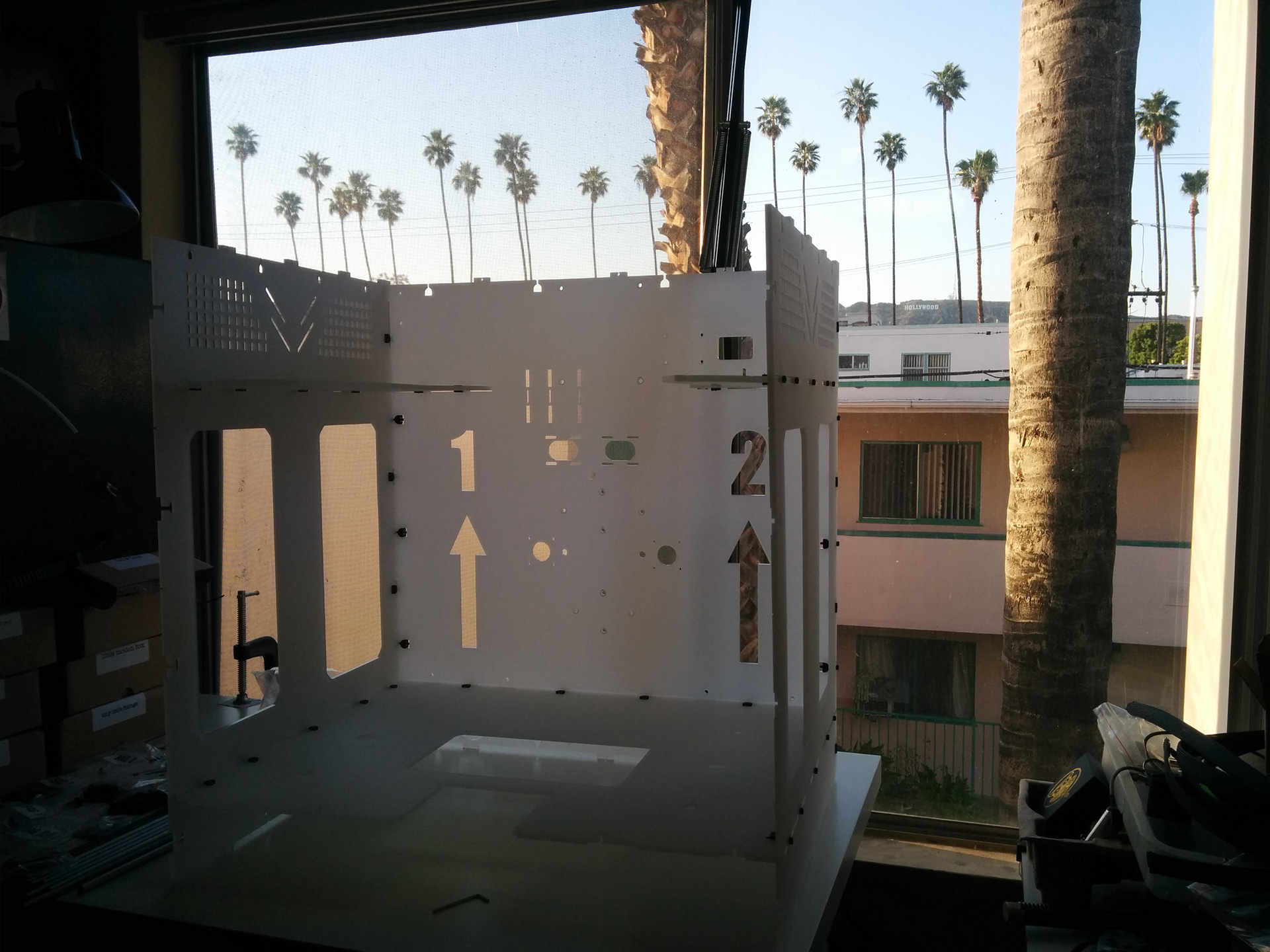 Above: Acrylic frame just started, resting itself below the iconic palms of Hollywood.
Below: Acrylic frame nearly finished and motion components mostly installed.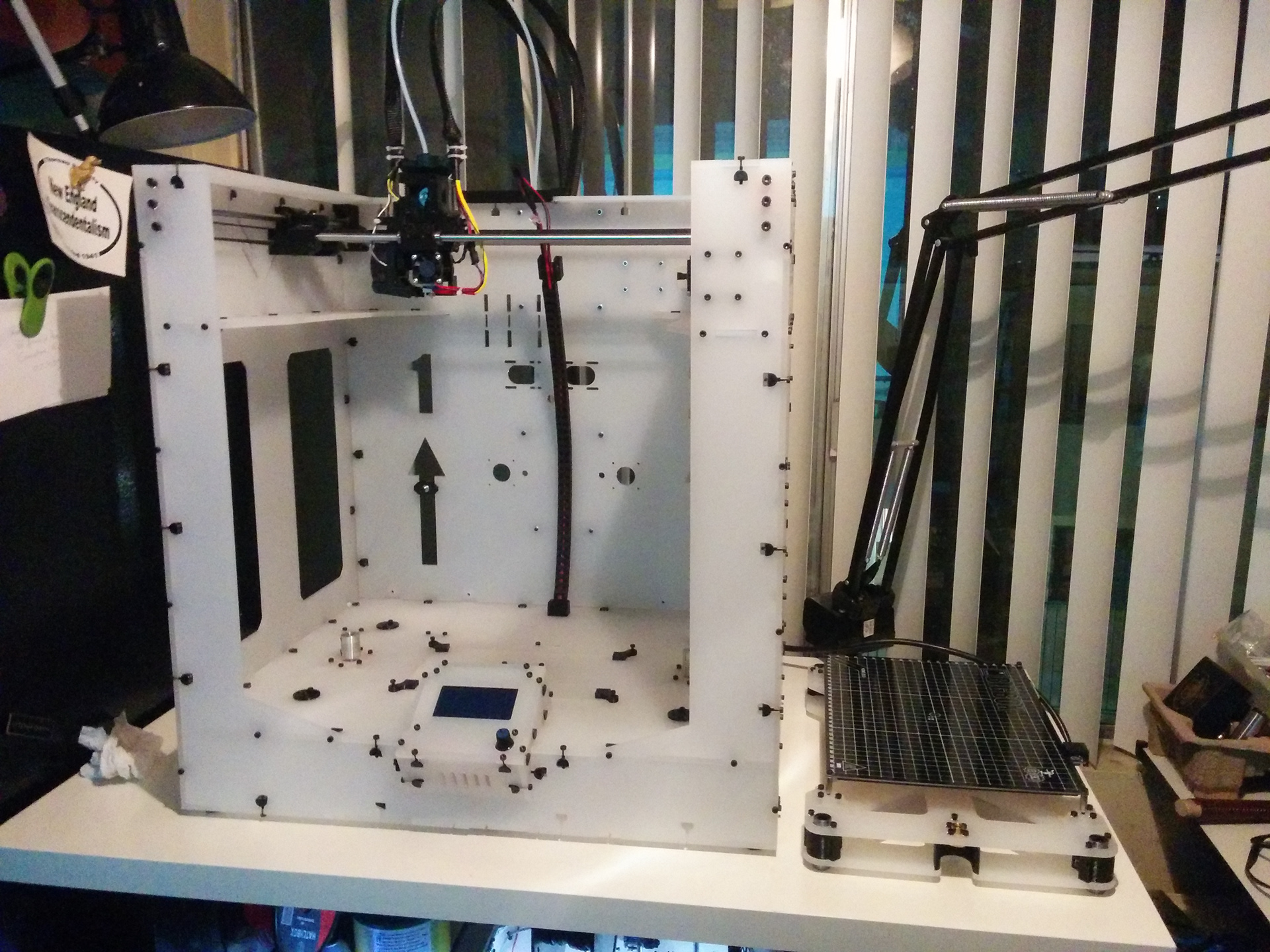 Above: Machine nearly finished, all gantry components installed. This shot is just before installing the Z-axis rods and build plate, shown at right.
Below: It prints! At least, most of the way.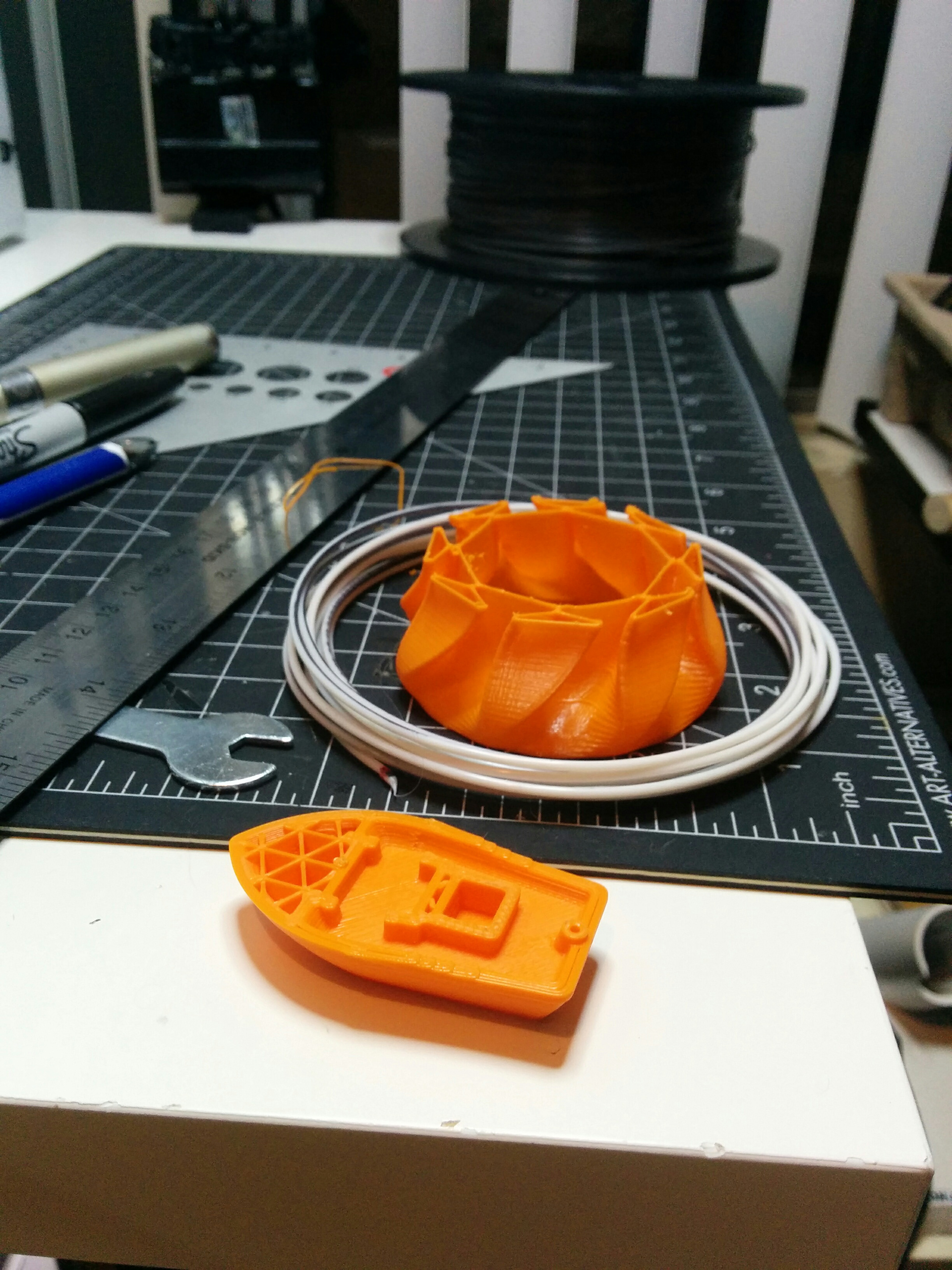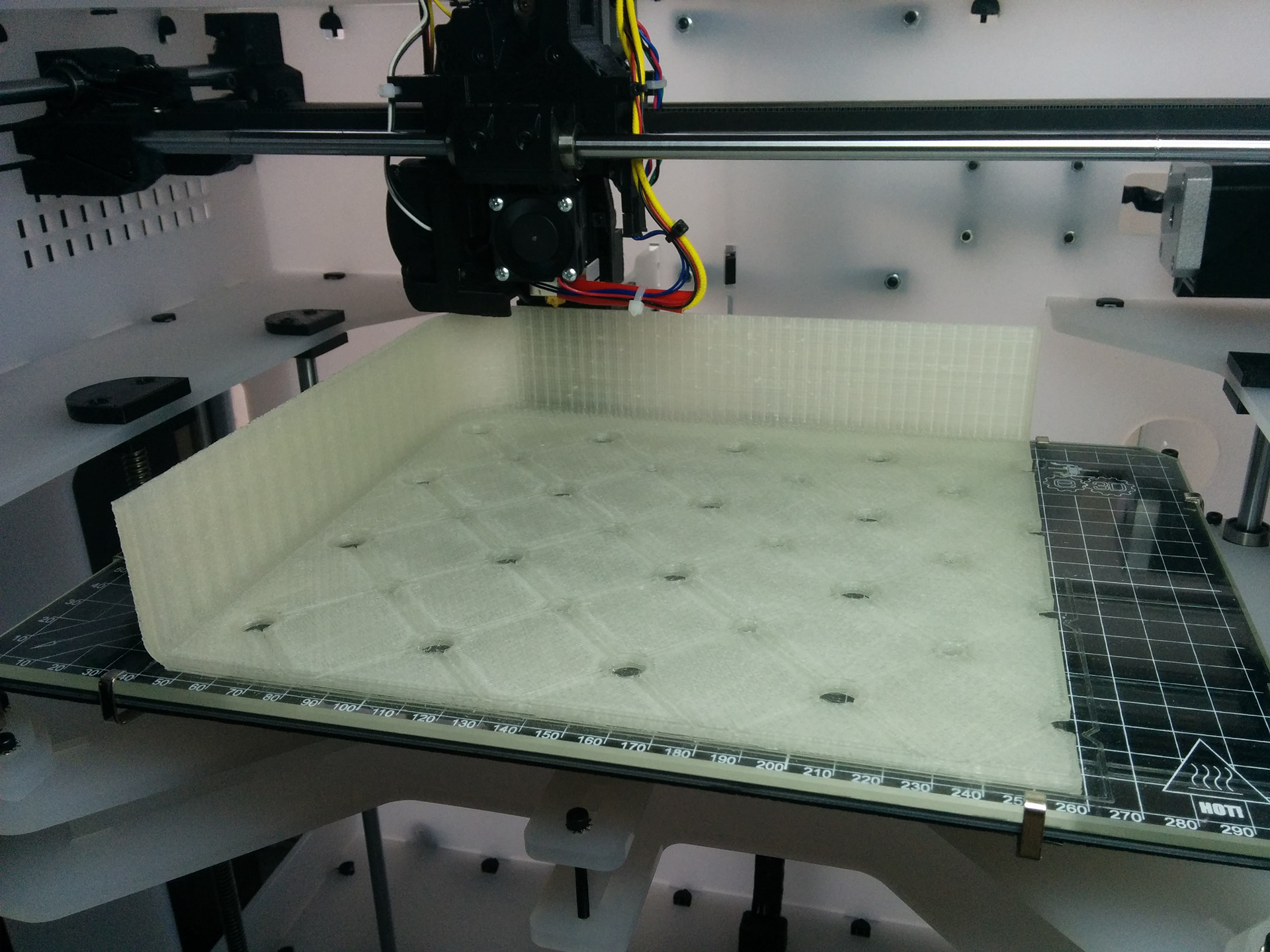 The BigBox allows me to print LARGE parts easily. Above is part of a total whole, shown below. This giant print is 4 pieces of PLA, 16" x 12" x 6", joined with a proprietary process for joining PLA parts.